Newsreader Lewis Vaughan Jones makes debut wearing hearing aid.
This story is from the BBC news site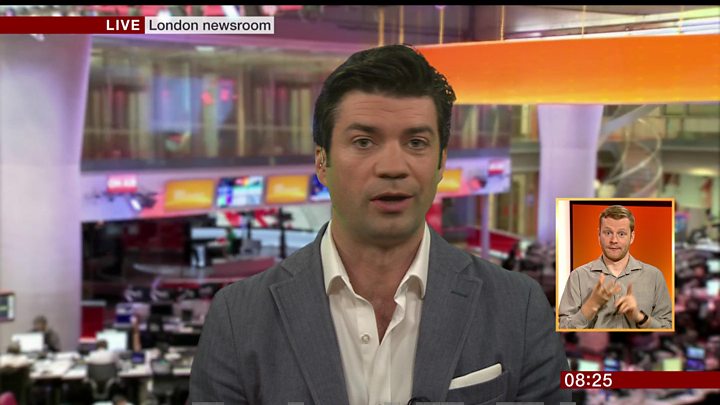 A newsreader who suddenly lost the hearing in his left ear, has received messages of support after his first appearance on air with a hearing aid.
Lewis Vaughan Jones, 37, feared his career presenting the news on the BBC and ITN was over after doctors told him the hearing loss was permanent.
"That was the darkest moment," he told BBC Radio 5 live.
He also spoke of his embarrassment in social situations and the difficulties of coming to terms with a hearing aid.
Vaughan Jones had good hearing all his life until he got a cold several months ago and couldn't hear in one ear.
Doctors found his left eardrum was no longer working and the nerve which takes sound to the brain had given up, he told BBC Breakfast.
When they told him the sudden hearing loss and the tinnitus were permanent, he walked out of hospital "completely bamboozled", he added.
The charity Action on Hearing Loss says about 11m people in the UK have some form of hearing loss, and 2m use hearing aids. It estimates that there are about 6.7m people who could benefit from hearing aids.
Before being fitted with a hearing aid, Vaughan Jones said his situation had left him frustrated and embarrassed.
"There's only so many times you can interrupt. You feel embarrassed so you withdraw," he said.
He also described how he would smile and nod along when spending time with friends and family, feeling unable to engage and as though he was missing out.
His hearing aid, he said, has been a massive help, allowing him to return to work.
His return to screen, however, was a noisy one as he can hear the director and correspondents through an earpiece in his right ear and an amplified, distorted version of his own voice through the hearing aid in his left.
The brain should learn to quieten down that distortion, he said.
Getting used to wearing a hearing aid has not come easy.
"I was self-conscious about it. My hair is slightly longer so that's a reflection that I might have been trying to hide it," he adds.
Now back on air, he wants to show everyone he is wearing one.
"There's no logical reason why I shouldn't wear my hearing aid on air and feel good about it," he said.
Some took to Twitter to agree.
Robbie M said he started wearing two hearing aids five years ago after finding he was unable to hear in meetings. He advised Vaughan Jones to "wear them with pride," adding: "Quality of life over people's thoughts every time."
Nikki Magrath said: "Great to hear you talk about SSHL [Sudden Sensorineural Hearing Loss] today. I know just how it feels. Has happened twice – once with full recovery."